Tell us about your experience and see what others are already saying about Dr. Kells', DC, Weight Loss
Leave us your testimonial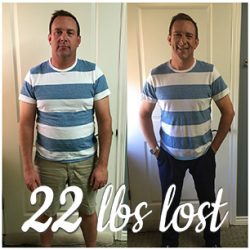 40 Day Challenge With Justin From Fox Friend In The Business
Watch the video of Justin's transformation, in 40 days, following Dr. Kells' program. It is the first video in the adjacent testimonial video section.
Join Team Justin!
Real Weight Loss
Patient results may vary depending on starting weight, adherence to the program and a variety of other factors.
View our video testimonials
This program really works
When I had my first appointment with Dr. Kells, I was experiencing overweight, stress and depression. Plus, dealing with menopause and hormonal changes, I thought that all the extra pounds that I had on me would never go away.
On my first appointment a scale measure was taken on me and for the most depressing thing that I found out of myself is that my metabolic age was 5 years older that what actually I am. My body was on constantly pain, aches on my knees, legs, and all over. I was exhausted all the time.
After the first 40 days of the program I have lost 12.5 pounds, I feel better and most impressive my metabolic age is now 4 years younger that my real age!!
Now, I'm very motivated to keep up with this new healthy lifestyle, and ready to reach my weight goal. This program really works and the support that you received from all the team is amazing.
Elvira Alger
Always assumed my genetics were against me
I've been overweight since kindergarten or earlier, and I always assumed my body was programmed not to lose weight. On occasion I would break down into tears of jealousy that my friends could live on pizza and soda yet never gain a pound, but I crave vegetables and have been stuck in a large body that I struggled to love.
I have tried other diets and exercise programs that never worked for me. The price point on the Dr Kells program scared me because I was afraid of failing. But thank all goodness that I started it anyway. In the first 40 days I lost 22 lbs, and people were noticing, even though my brain still saw too many flaws in the mirror. Now I am 104 days in, 46 lbs down, and even I can see the difference.
But the reason I have loved this program isn't just the results; I am so surprised that it isn't as hard as I expected it to be. The accountability to myself is improved by having check-ups with Dr Kells' team, and the Facebook group helps remind me success is worth celebrating.
This has been the best decision I have ever made for my health, and it is worth every penny because there is no price that we can put on the value of being the person you want to be in body as well as soul.
Leanna Read
Emily was everything I needed 🙏
So I've had a setback and I'm really struggling with what to do. I called the office today and Emily listened beautifully to me and put me into an appointment tomorrow!!!!! I'm so very proud and grateful to her. Kristen 💁‍♀️
Kristen Hurtado
Life Changing!
I'm a very private person and don't often share my personal struggles and challenges, but when I was encouraged to share because it might help someone else I realized I couldn't be selfish with the life changing group at Dr. Kells' Weight Loss.
For years I have been yo-yo dieting focused mainly on low calorie / starvation diets. I kept going back to them because I was able to see quick results. However, the weight loss was never sustainable, and I couldn't stay on track for longer than 20 – 40 days. When off the diet the weight piled back on and I felt terrible. I also suffer from psoriasis and psoriatic arthritis. I have a great Dr that has helped to reduce and control the pain with medication most days to where no one other than myself really notices that I am in pain all day. I knew I needed to make a change, or I was not going to be able to continue my job or my life for much longer.
When I met with Dr. Kells' and her team, the genuine love and support I felt was overwhelming. For the first time, I truly felt that there was hope that I could get to a healthy weight and live a better quality life without the embarrassment I felt from being obese and because of the pain I was in. They are genuinely invested in my success. As part of the program, I tried the red-light therapy and vibe plate. I can't even explain how much I love the treatments and how much it has helped my pain levels! I just completed my 80 day check in and I am down 39.2 lbs.! I haven't felt hungry and I don't feel restricted. My pain is under control and am excited to continue my journey to my goal weight. I can't recommend Dr Kells' Weight Loss enough! They have helped me change my life!!!
Laura Thurston
Continued Success
I'm now 6 1/2 months into the program and I'm down over 50 lbs. I am so grateful that I'm doing this program. I had foot surgery a few weeks ago and I cannot even imagine how I would have gotten around on one foot 50 lbs heavier. I'm down 4 sizes in my clothes and am sleeping so much better and have more energy and confidence in my skin. The support online, via text and on the phone is phenomenal! Dr Kells has a great team and program!
Sonia Meeter
Wind beneath my wings
The service / people working at Dr Kells' Weight Loss center are superb. They guide you through the process without judgement. They're knowledgeable and kind. The recipes that they offer are delicious and you never feel deprived. Even after my weight loss, I was able to get the necessary items from the center to keep the weight off. I would recommend the service to anyone serious about losing weight. You can't go wrong!
Marlitta Smith
To fill on top of the world
One of the best things I have done in my life. It changed my outlook on my my Health. I fell like a new person. Loosing 40lbs was A life changer. Thanks To the Dr. Kells program. I thank them for changing my life. Love all of Her staff ❤💕 Larry Peterson Salt Lake City. Utah.
Larry Peterson
I feel great!
I have just completed 80 days of this program. I have tried several other programs in the past with no success. This is the first program that I've been on that was personalized for me. It's easy for me to follow and I've released over 30 lbs so far. The clothes in the bins under my bed, that I never thought would see the light of day again, fit me! The coaches are great! The recipes are tasty. Did I say it was easy to follow? I'm sleeping so much better. Acid reflux is gone. My blood pressure is now in the normal range. I'm hiking regularly and am able to get up off the floor with ease.
Sonia Meeter
Weight Loss Journey
Dr. Kells and her team TRULY CARE about YOU as a person. There are so many options to weight loss, but I have found her system to be well thought out and scientifically proven to assist the INDIVIDUAL; which means IT IS NOT a once size fit all program. I believe communication is KEY and I can tell you there is NO LACK OF communication. Having a personal coach aka your PERSON to give you dedicated encouragement is PARAMOUNT when you are taking this weight loss journey.
GREAT JOB!
Monique Walkes
Living my best life
Dr. Kells weight loss program is exceptional. The program changed my life. Hence, leading to a healthier and fulfilled life-style.
Marlitta Smith
Positive Experience
I immediately felt at home when I joined Dr. Kells' program. I was welcomed with open arms. This program has not only taught me about eating and living healthy but Has also helped me focus on my positive mental health.
Weight loss can be hard but the staff have been so supportive and helped me focus on my accomplishments.
They are there for you!!
I have reached my goal weight and am still maintaining today!
BrieAnn Schiffler
A great program
I want to let people know just how wonderful this program is for weigh Loss, I have tried several other programs, none of them works like Dr Kells program. I started October 28, and weighed 225lbs it is now the 7th of February 2020, and I now weigh 182lbs. What a great feeling. Thanks for your help Dr Kell. People please take a good look at this program. Skinny Larry.
Larry Peterson
Forever Grateful
What a partnership! I am so impressed with the wholistic approach and the support provided. Of course it's about the scale, but the psychological aspect provided by the Motivational Monday sessions are just as valuable. I receive important information via the videos, share recipes and have made new friendships on the social media site, and I can't say enough about the counselors at the office! They are right on top of where I am in the journey to let me know what to expect. I get quick responses and never feel intimidated about reaching out. The fact that they receive ongoing education tells me a lot about Dr. Kells and her commitment to her program.
As someone nearing 70 I was hesitant but my menopausal middle is slowly dissolving. I have been empowered. I view things differently, can objectively assess and make better choices/decisions that are showing on the scale and more importantly with my self esteem. I have been given the knowledge to move forward and be in control. It's a great feeling and I will forever be grateful for this experience!
Lynda M Butterworth
A Diet That Makes You Better From The Inside Out!
This is the only diet I have been on that made me feel healthy first, in order to achieve optimal success.
Ivette Paras
Frustrated Active Female
I was an active 61 yr old, over the last couple of years weight started slowly inching on, I was working out furiously, cardio machines, jogging, walking 5 miles a day, strength training 3x week, yoga 2x week it was consuming much of my day, I was doing 2 workouts a day 1 cardio then yoga or strength training, but still the scales went up, not to mention my fatigue by evening,
Dr Kell's plan has been a complete reset of mind and body, a whole new way of approaching weight loss. Now, I have taken my life back, I own my time again with reasonable amounts of exercise , mostly focusing on proper eating habits, I mentally and physically feel so much better and it's an easy lifestyle to adopt, yes I have lost weight and decreased my clothing sizes but I am most happy about my mental clarity and energy as toxins have been removed from my body due to learning clean eating habits, anyone's body would thank them for doing this, mine certainly has with a new look!
Lisa Holladay
Plan is amazing
Dr. Kells plan has been very inspiring to me. I was doubtful that the plan would work for me, but it has changed my life. I would give it 10 thumbs up.
Linda D.
Program is great
Great program. Girls are so sweet and thoughtful.
Irene
Seat bet moment
I had an aha moment getting in a plane from the east coast last January. I had to ask for a seat belt extender. I knew I had to get serious and do something. I saw Dr Kells on a morning news program so I thought this might be what I need something it is new from what I had ever done before. I met with Dr Kells and she was so encouraging and realistic. She said I could do it but it wouldn't be easy. At first it was hard to give up all the bad things u. My diet. But now after losing 80 pounds I no longer look at food as what I can't have, but what I can have. Working with the office staff during my journey has been wonderful. They have been there every step of the way and so encouraging. I reached my goal and I reset it And working on losing just a bit more. Wonderful program
Marian ostvig
Dr. Kells' healthy eating lifestyle makes a difference
What a difference Dr. Kells' eating healthy lifestyle has had on me physically. In years past I was a regular donor of platelets, and a good donation of platelets was a clear dark yellowish color and I easily could provide two units of platelets per donation.
Now fast forward to me being 50 to 60 pounds overweight, and I donate platelets but I am only able to produce one unit of platelets because there is so much fat in my blood. The machine that removes the platelets from your blood has a hard time telling the difference between platelets and fat and my platelet donation looks cloudy and whiteish. When I started having poor platelet donations I went to my doctor and he prescribed a medication to help reduce cholesterol and triglycerides (fatty acids) in the blood, which didn't help much with my platelet donation.
Now fast forward again twenty-one days into my journey of doing Dr. Kells' healthy eating lifestyle and I'm not taking any medication and I go to try and donate platelets and I'm able to produce two units of clear dark yellowish platelets – YES! I'm on day 36 and I have donated platelets twice and I'm excited to give back to those cancer patients who need platelets, it feels good knowing my body is healing itself from eating healthy – I feel great. Thanks to all those who are helping me on my journey.
Devon
Devon J. Hartley
Well worth it!
My mother introduced me to Dr Kells' program over a year ago. On July 2018 my family and I went to visit my mom & dad in Colorado and I scheduled my appointment. Everything was carefully explain to me and considering that I came from out of state having access to their office via text is amazing. I continuously receive helpful recipes and wonderful support. I don't think I could've managed to lose the first 30 pounds as quickly as I did. The addiction to sugar and carbs was the hardest. After five months since I started the program I had my physical. My blood work was excellent & my weight-loss was down to 40 pounds at that time. My doctor was amazed at my results. Also I no longer have joint pain. Makes it easier to go about my day to day and my energy is high.
My thanks to mom, Dr Kells and her entire staff! 👍
Zulma Garrido
My life
I love how the office was patient with me when trying to make my first appt. Living in Utah and the winter months, the roads can be sketchy driving an hour to their office. They made me feel important when I arrived. The assurance of the program, my goals, not a diet using hormone replacement shots and none of the fad diets that are out there. I love the real life stories they share!! …plus I got to meet Dr Kells ☺️!!
Stephanie Bezyack
Energized
My experience was very positive. I couldn't believe how much food you get to eat. 2 cups of vegetables every meal is a lot. It has been over a year since I managed to reach my goal weight. I go places and of course I eat different stuff and sometimes I gain and others times I don't. I always thought I had energery but now I am energized so much more and I am always moving. People even comment on how I am always moving. I now know what to do when I do gain weight and so the tools are there in my mind and if there is a problem the staff – ( the wonderful supportive staff) are always available to help you get back on track. This is a life time program not a fad or a program that when you get to your goal you are on your own. They are always there for you and ready to help in anyway they can. It is sooo nice to have such a supportive staff. They are always courteous and friendly. I wanted to loose weight and get healthier, I noticed that as I get OLDER -darn haha -that it seems like it is harder to get off the weight and easier to put it on. This isn't just a weight lost program but a transformation. If you want a positive change in your health that will last a life time, check it out and go for the consultation.
Dee Becher
Amazing!!
Wow! This program in just 40 days has transformed my body and mind. I already feel amazing 27 lbs lost (in just 40 days) an still going strong. This program is teaching me a lifestyle change that will be with me forever. Other programs have not worked for me like this one has. The staff is always friendly and they respond quickly to questions. This is a program I can maintain and be successful with.
Joy H
New life
After many years of dieting and trying different weight loss programs Dr. Kells is the only one that has worked for me. I have lost 97lbs. feel and look healthier than I have in over 20yrs. This is the only program I feel confident that I wont gain the weight back. The support and coaching from Dr. Kells and her staff have been with me every step on this amazing journey. I am so grateful for this program and would highly recommend it to anybody.
Julie Vandergrift
Very Pleased!
I can't even begin to describe how happy I am with my experience with Dr. Kell's weight Loss! The staff was super friendly, and that helped making the decision to better myself and my life so much easier! McKell was such a great coach and really encouraged me! Not only did she keep me motivated and upbeat but she also helped me with long term goals and habits so I can continue my progress! (Plus her personal experience really inspired me and made me feel like my goals were actually reachable! ) Dr Kells team has changed my life! They all are so kind and really want to help you become the best you can be! Thank you all so much!!!
Kathy Wright
My experience
I've never felt so welcomed by a clinical staff in my life! The people at Dr. Kells were just so warm and friendly. I found they really cared about my getting the best results by tailoring the program to fit my individual situation. I'd highly recommend this place to anyone who wants to lose weight and take care of themselves.
Margot Stone
A new life
I wanted to write and let everyone in this program know how much that it has changed my life, First the team of the Salt Lake City Dr Kells, Mikell is there always, she has expanded my behavior in eating and understanding that this is a new beginning for a healthy lifestyle I cant thank Dr. Kells and her team enough, it is well worth your time if your over weight and nothing else has worked I believe this is the program for you.
Respectfully yours in weight loss
Nick
Nick Davis
Weight Loss that Leads to Lifestyle Change
I had gastric bypass 15 years ago. Slowly gained back half of the weight I lost.
This program is different. I am learning how to eat so the weight loss will be permanent. My sugar cravings are gone. I was able to resist eating the wrong foods even over the holidays.
This is a new way of life.
Thank you Dr. Kells & Staff for helping me on this journey.
Sandra Finney
Great Program
The program was easy to follow and was quite affordable. The team was very supportive throughout the whole process. The food that I ate throughout the diet was great.
I really started thinking about doing something when I took my blood pressure at the grocery store one day and was higher than it has ever been. After 20 days on the program it was down to 116/80 and has stayed in that same range ever since.
I'm almost done with the first 40 days and I'm down 21 pounds and feel great.
Tom Peterson
Dr. Kells' Weight Loss changed my life!
I came to Dr. Kells' Weight Loss needing to lose weight and regain my health. I was sleeping in 1 1/2 hour intervals, on six medications, fatigued, and needing answers that are not addressed in traditional medical arenas: neuro-transmitter health, hormonal wellness, detoxing, and changing my lifestyle.
What I discovered at Dr. Kells' Weight loss was a program that enabled me to lose 50 pounds, restored capacity to sleep 5-7 hours uninterrupted, and increased my strength and stamina. After Dr. Kells' program, my blood test results had my primary care MD asking, "What are you doing to get these results?! You don't need to be on your blood pressure medications any more!"
Dr. Kells' Weight Loss has changed my life forever! I am more healthy at the age of 58 than I was in my 30s! Trust her process and you WILL see results!
Deborah Woolridge
Shopping for new outfits
I went shopping for new outfits for two dinners I have next weekend. My dress, jacket, top and pants were all down a size! I'm down 20 lbs.
Kathy A
Achieving better health
In a short time, I have lost over 10 pounds, along with losing aches, and gaining energy and determination! Vive is very supportive and offers do-able approaches to achieving better health. Thank you
Ruth S
My energy level is up
I've been doing Dr. Kells', weight loss program for a little over a week, I have been losing a pound a day! I have done other weight loss programs, not near the results, and nothing that was completely natural. My energy level is up, and no more afternoon fog!
Theresa T
I am losing weight daily
Vive is helping me to live again! Change of attitude, I can do it! I am losing weight daily, exercising, have new energy levels, and feel more confident with every step. I came for my personal care after removing cancer to cleanse and build my immune system and have received so much more. Thank you, ladies! Even my husband came with me and is doing the program! He has lost 30lbs! and I've lost 10 lbs!
Merri T
Dr. Kells made it possible
Thanks to Dr. Kells and the VIVE program, I lost 40 pounds in 47 days! This weight loss program has been the best thing for me and I feel GREAT! I am 67 years old and was raised to "clean up my plate," and old habits have been hard, but not impossible, to break. Dr. Kells and the VIVE program made it possible for me, and I can't thank her enough.
Phil R