Groundbreaking Red Light technology to naturally augment your healthy lifestyle
Dr. Kells, DC, and her team provide innovative and personalized lifestyle coaching and a well-rounded health plan. Also, Dr. Kells Weight Loss Clinic offers Salt Lake City residents state-of-the-art red light therapy body sculpting. The SPIE, or Society of Photo-Optical Instrumentation Engineers, reports that red and near-infrared LED technology is "effective and safe for abdominal fat loss without any side effects." When you combine that with our healthy weight loss program, you can reach your tangible goals quickly, fluidly, and naturally.
This process uses low-level natural light to reduce fat loss and cellulite. Red light therapy also helps prevent sleeplessness and joint pain while aiding in muscle recovery. Once you start this treatment, you'll see and feel its benefits above and beneath your skin. Our specific LED light is designed to contour the body and reduce circumference in any specified area. Combined with our entire extensive treatment plan, this step will quickly get you on the path to looking and feeling great.
---
Watch Tiffany's Testimonial On Her Success With Our Red Light Therapy
---
Treatment that Cuts fat safely and succinctly
Exposure to red light can safely and quickly deplete fat cells within days. This process purges the fat from your cells and causes it to be processed by the liver as part of the body's normal detoxification. In conjunction with our other treatment methods and plans, this therapy can efficiently help you slim down and look great. In addition. red light therapy is also beneficial in reducing inflammation, especially for people that have rheumatoid arthritis.
As you continue your health plan with Dr. Kells, continual red light therapy can also reduce the appearance of cellulite as it rejuvenates your skin and improves its cellular functions. With our help, your skin can look toned and smooth through natural methods. Unlike liposuction or other invasive procedures, this light technology only affects fat cells temporarily and helps you to shape your body without surgical procedures.
---
A Healthier lifestyle with Healthier Skin
Studies show that red light therapy stimulates the production of collagen and ultimately helps your skin look and feel healthier. While allowing weight loss improvement, these focused, natural lighting sessions can also help in the treatment of wrinkles, acne, and scarring.
Whether you have suffered skin damage or loose skin, this method can improve your skin tone and texture without the use of botox.
---
A safe weight loss supplement
This tested and peer-reviewed method is completely non-invasive and uses high-quality, medical-grade LED lights to expose your skin to natural light without the dangers of heat or concentrated UV rays. Red light technologies have never shown any recorded negative side effects, and patients do not experience any discomfort during the treatments.
Pregnant women, individuals with cancer, or people with cirrhosis of the liver should not use Red light therapy. When fat cells empty, the fatty acids and triglycerides are processed by the liver and removed from the body. Because of this, individuals with compromised liver function should not receive Red Light Therapy.
---
A comprehensive health strategy for all of Salt Lake City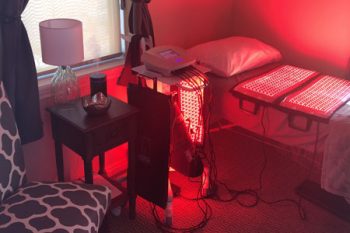 When Salt Lake City residents come to Dr. Kells for non-surgical weight loss, we present them with a full, long term strategy to help shape the healthy body they want with natural methods. Avoid liposuction and other invasive procedures. Professional Red Light therapy is a regular treatment that plays a small but important part of your personalized body development.
Using regularly scheduled red light therapy along with targeted nutraceutical protocols, alkaline water, coaching and support, and comprehensive meal planning, we'll help develop a lifestyle that makes any of our Salt Lake City patients lose weight and feel healthy, all while knowing these changes are part of an intuitive and natural progression. As local Salt Lake professionals who have worked through Dr. Kells' methods ourselves, we understand and work closely with each patient to reach their long term weight loss goals with the methods that are suited to and work best for them.
Sungkyoo Lim, Seok-Jun Lee, and Eal-Whan Park "Fat loss by red and near-infrared LED phototherapy," Proc. SPIE 10861, Mechanisms of Photobiomodulation Therapy XIV, 108610B (7 March 2019); https://doi.org/10.1117/12.2506800